As some of you know, I ordered a new mountain bike online from bikesdirect.com. It's a Motobecane Fantom29 Trail. I had UPS hold it at the depot for pickup so mom wouldn't freak, picked it up last week, and it's been in the box in the garage since then. Tonight, it was cool out (in the 30s), and I don't have work til midnight tonight, and had a second wind (been up and working since 10am) so I decided to work on getting the new bike assembled. Now most reviews I've read or seen of this and other motobecane bikes from bikesdirect portray the assembly as a simple 20-60 minute procedure, usually involving assembling the front brakes, attaching the handlebar, putting on the seat, pumping tires and spinning on the pedals; this was not the case with this bike.
The bike came in a humongous box, so I expected it to be in maybe 4 pieces (front wheel and handlebar detached, seat post and pedals detached); almost everything you can think of, other than the fork, stem and front derailleur were unassembled or disassembled. There was foam and paper and rubber bands and baggies taped, ziptied and rubberbanded to everything. Anyone in their right mind, upon seeing this mess, would pack it back up and bring the box to a bike shop... It took 3 cigarettes, 2+ hours and bobby fischer brain-melting contemplation and strategizing to get this thing put together, and i still have to figure out how to get the rear derailleur positioned right to get the rear wheel in place, and make sure everything's adjusted right. the brakes were the easy part.
There was a manual with the bike. The only instructions relevant to my bike or any mountain bike from the past 20 years were the 4 steps on the cover of the manual, which didn't go far beyond taking the bike out of the box and turning the fork around. I got stuck in a couple of spots because I either didn't have the right tool (multitool doesn't do it all) or didn't know how something was supposed to go. Luckily, I happened to have bought a set of torx wrenches at Harbor Freight for something else, and I went into my car and found them once the scavenging raccoon was out of sight. I needed a Torx-25 to attach the brake rotors to the wheels and stood staring at them until I decided to assemble something else and come back to it. I later looked up tools needed for tektro brakes and looked for the torx wrenches (once the raccoon was gone outside - i was locked in the garage with the bike). Quick release skewers and other goodies left for me to figure out too. On the bright side, I feel like a junior bike mechanic now. Without boring you guys even more, I'll post some pics with commentary. Any insight on the rear derailleur greatly appreciated (I'll probably have to look at my other bike or pics online to figure it out either way).
can't work on bike without food: dueling mcdoubles to the rescue
what's this?? why?? gah!!!!
deep breaths..
GAH!!!! what am i supposed to do with this thing?!?!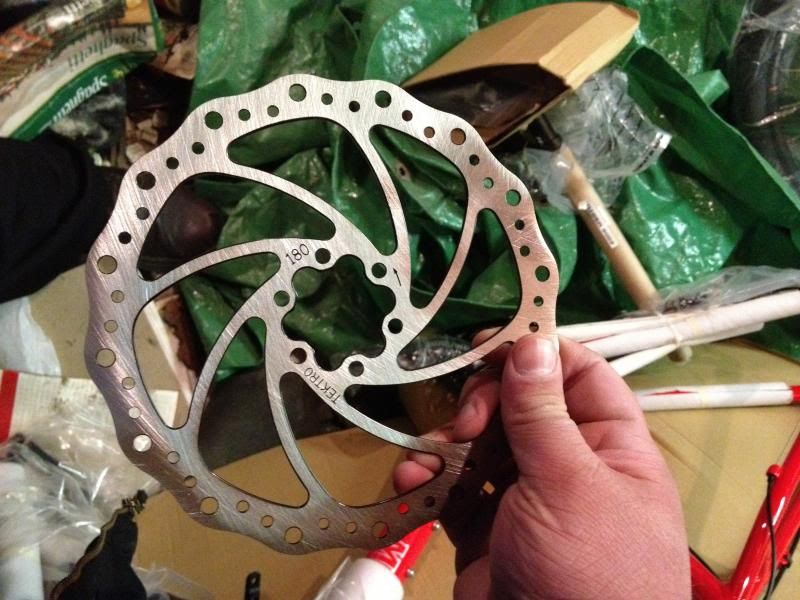 you can't be serious...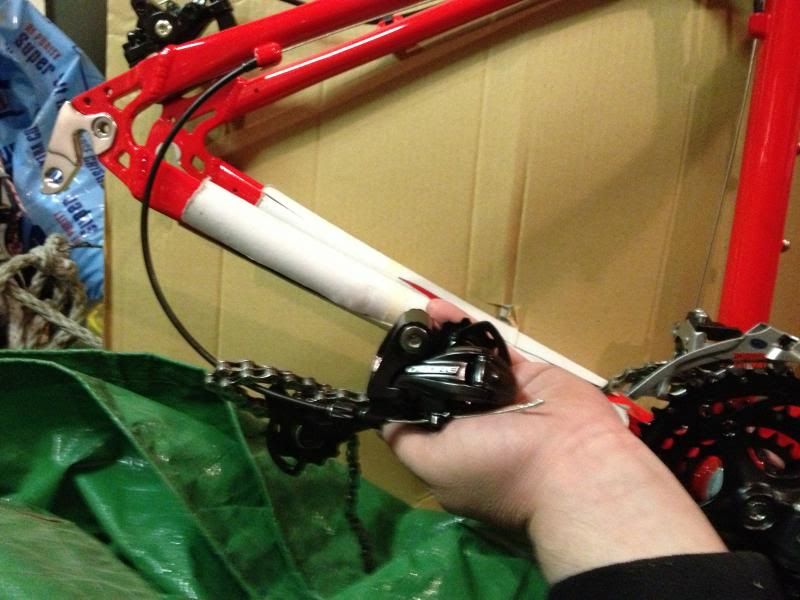 not sure if i wanna laugh or cry...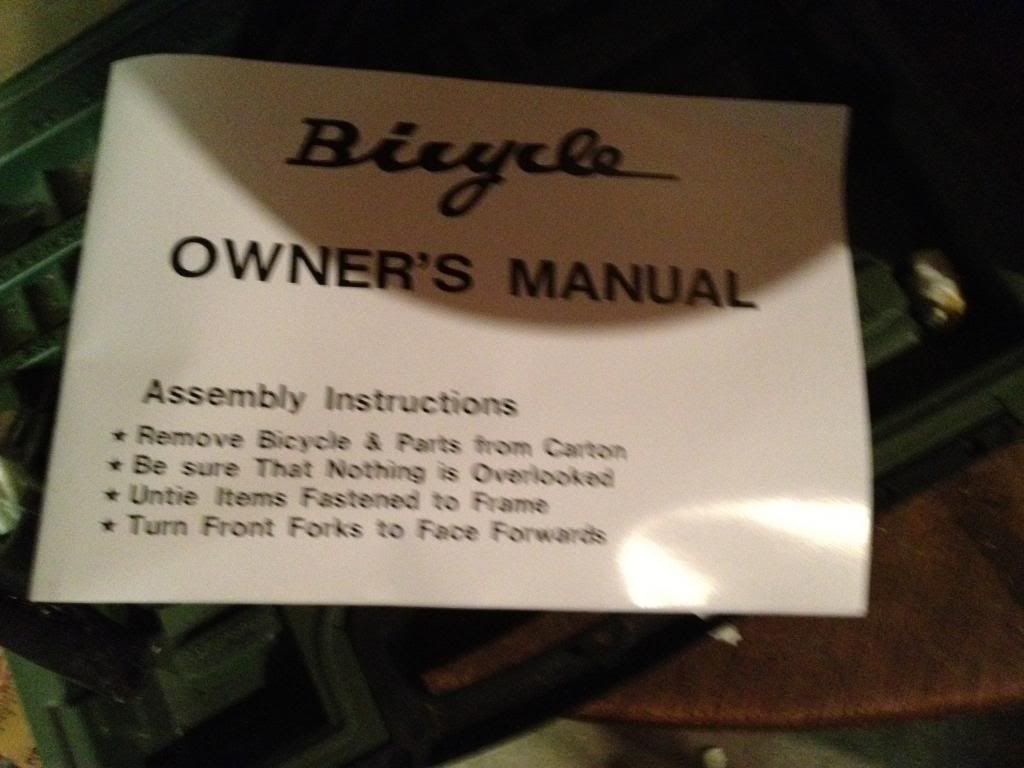 doesn't look too hard
GAH!!!! none of my hex wrenches fits!!!!
ok, i got the handlebar on
front brakes assembled (took a little contemplation)
nice frame, wanna share a bed??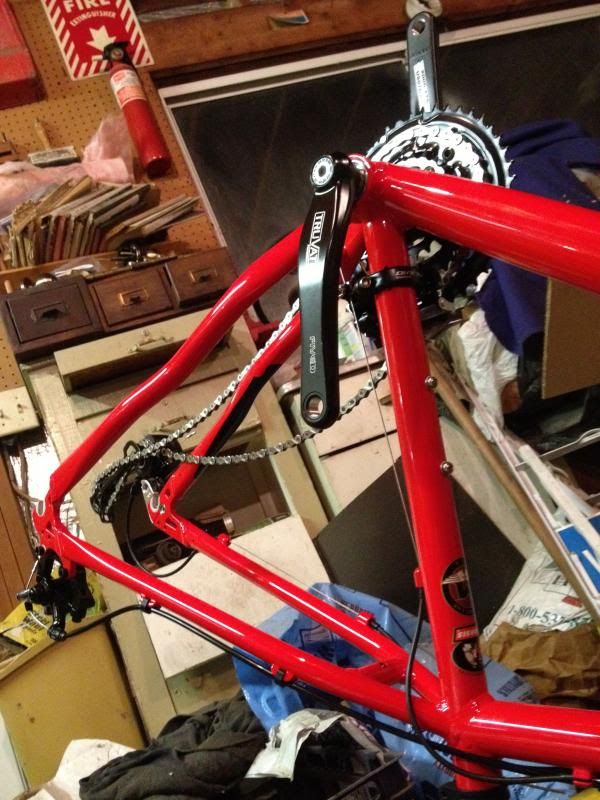 now THAT's the tool for the job
front wheel assembled, WOOHOO, we're (almost, maybe) halfway there!!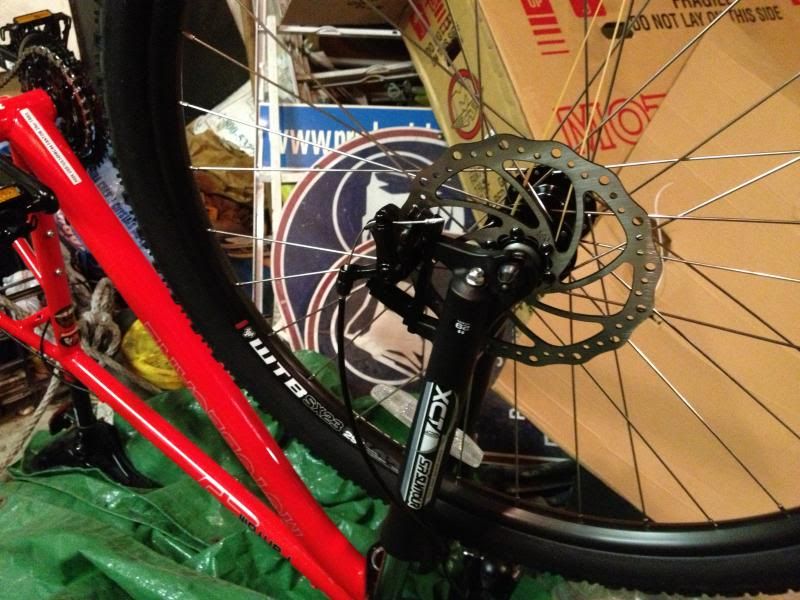 still need to figure this part out...