http://napaonline.com/Catalog/CatalogIt ... 0387035357
http://www.autozone.com/autozone/access ... =46839_0_0
_
http://www.pepboys.com/product/details/ ... ake_tools/
http://www.harborfreight.com/one-man-br ... 37201.html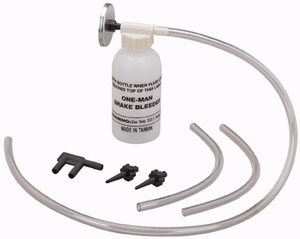 I don't think I got mine at a parts store or Harbor Freight. I'm pretty sure I got it at a discount store many years ago. Photos and reviews indicate that it's the same damn thing everywhere you buy it.
Anyway, I got it for a scant couple of bucks but, owing to my distaste for bleeding hydraulic systems and extreme skepticism about this cheesy looking doodad, it never came out of the package. Last year I failed at bleeding my pickup's brakes with a MityVac, then ended up doing it with a helper to push the brake pedal...that's annoying.
More recently I needed to bleed (and flush) my wife's SUV's brakes. I decided that, despite my skepticism, this thingamabobber was worth a try. The tube fit securely onto the bleeder nipple. The magnet felt a little weak but it never failed to hold the unit to the frame. Now on to the main event: To my surprise,
it worked
! It worked perfectly, even on the first pump when I wasn't sure the tube would even get filled up.
The small bottle, weak magnet, and potentially short tube are mild annoyances at worst and can all be worked around with minor hacking if you plan to use it often. (I'd recommend a hard drive magnet.) However, if you're a professional or doing this more often then you probably wouldn't waste your time with a $2 to $8 tool, instead using a nice vacuum pump brake bleeding system, or a pressure bleeder at the master cylinder, or even just a souped up version of this same tool. For the DIYer this thing is perfect, those mild annoyances barely register on the same scale as bleeding the brakes without it and the price is right.
Performance: Does the job perfectly.
Handling: Magnet's slightly weak.
Practicality: Bottle's a little small and tube (while plenty long enough for the job I did) may be short for some jobs.
Cost to own: Can't be beat.
Feasibility of sexual encounters: Don't even want to think about it.
Fun factor: Getting the job done so easily without a helper is
satisfying
. Fun, maybe not.
Result: 4/5, but despite my reservations, highly recommended.